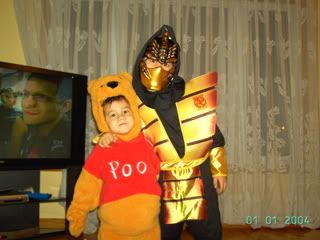 Here are 2 of my boys modeling what they will be dressed up as tomorrow night. We will be trick or treating with my friend and her four boys.
I can already taste the chips I will be stealing from them.

We are handing out tootsie rolls, Ginger ale and chips. I tend to go all out for Halloween. It's the only holiday I like. It' so fun to dress up and get candy.

I'm thinking back to some of my costumes when I was a child. My favourite was a dead bride. I had picked out this kids bride dress, and my dad wouldn't let me. He said I had to be more creative. He bloodied up parts of the dress, ripped it, scorched part of it. The coolest part was that he took an actual kitchen knife and welded it to a piece of metal that he wrapped around my chest. He made it look like the knife was sticking out of me. Every thought it was a cool prop..No prop. It was a real knife!