It feels like my skin is melting off of me. Yesterday it was a blistering +34. That does not include the humidex which probably had us up over +40. Today it's not too bad, we are sitting at +29. The inside of my house is a lot hotter than that though.
I'm not bitching though, I really do enjoy this hot weather. Last summer it was horrible for me because I was pregnant, but I am not with child this year, so I get to enjoy the heat.

You will probably think that I am a fool to use the oven in this hot weather, but I can't turn down a good food dish, so this is what is cooking as I sit here typing. Incredible Broccoli Pie.
You will need..


cooking spray
125 mL (1/2 cup) green onions, chopped
1 clove garlic, finely chopped
375 mL (1 ½ cups) broccoli, cooked, chopped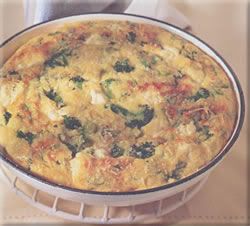 125 mL (1/2 cup) low fat cottage cheese
6 eggs
125 mL (1/2 cup) milk
125 mL (1/2 cup) variety baking mix
To taste salt and pepper
15 mL (1 tbsp) goat cheese, crumbled (or light cream cheese)
15 mL (1 tbsp) parmesan cheese, grated

Spray a 23 cm (9-inch) pie plate with cooking spray. Set aside. Spray a non-stick skillet with cooking spray. Heat over medium heat. Sauté green onions and garlic for 5 minutes or until transparent. Stir in broccoli. Layer broccoli mixture and cottage cheese in pie plate. Set aside. Whisk eggs with milk and baking mix; season with salt and pepper. Pour over cottage cheese mixture in pie plate. Sprinkle top with goat cheese and parmesan cheese. Bake in a 180°C (350°F) oven for 25 minutes or until a knife inserted near the centre comes out clean.
I finished the romance from below..'Night Storm'. I'm glad that I read it despite the bad reviews, because it was REALLY good. I have yet to start 'Reading Lolita in Tehran'. I tried to get into it, but I can't seem too. I'll read a few pages, then pick up a different book to read instead. I will finish it, but it will take me a while.
In the meantime I am re reading one of my all time favourite novels.

Promises
by Charlotte Vale Allen. It's an older book from the 80's I believe, but still very good for todays standards. This will keep me occupied till my next shipment from Eharlequin gets here.
I took some quiz's. My results are..

You are 67% Leo
Hmm, I thought I was more Leoish than 67%
You Should Date An Italian!

You love for old fashioned romance, with an old fashioned guy
An Italian guy is the perfect candidate to be your prince charming
If your head doesn't spin enough, just down another espresso with him
Invest in a motorcycle helmet - and some carb blocker for all that pasta!
Hmmm, Italian guys are yummy.
You Are Aphrodite!
A total shining star with a ton of admirers
And no wonder: you live life to the fullest!
When things get bad, you can easily take off to a happier place
But occasionally, you need to deal with problems head on
Isn't Aphrodite the Goddess of Love? Cool!
You Are 36% Girly

You are a pretty hardcore tomboy, and a very free spirit.
Gender roles be dammed, you like to do things your way.
Hmm, I'm surprised I scaored even that much. Aside from my love of pink, and keeping my feet pretty all year round, I'm not much of a girl at all.
You are an Adventurous Date

Your dating philosophy?
"If it sounds good, go for it"
What haven't you done on a date? You're into creating an extreme, memorable experience.
You're spontaneous enough to be up for almost anything - even jumping out of a plane.

Guys to look for:
Men who share your love of thrills and adventure.
Whether it's backpacking through Thailand,
Or whitewater rafting in the scariest rapids!
Ok, First of all I would never jump out of a plane. There is not enough money on the planet to make me do that. I'd love to go to Thailand, but in the back of a limo..not backpacking!
Your
Inner Pop Princess Is Brintey Spears

"I?m a slave for you. (Take that) I cannot hold it; I cannot control it.
I?m a slave (It just feels right) for you. (It just feels good)
I won?t deny it; I?m not trying to hide it. (Baby)"

You're not that innocent.
NO!! I demand a re-count. omg, kill me!
Your Celebrity Style Twin is Nicole Richie

The perfect blend of uptown and downtown.
Holy crap, this keeps on getting worse.
Your 80s Heartthrob Is

John Stamos
Thats it for now, I guess.