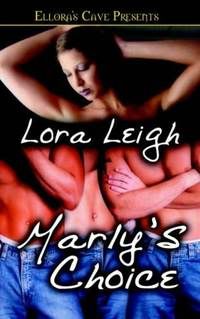 Marly's Choice, By Lora Leigh
Ellora's Cave Romantica Publishing
Grade:B-

Book 1 in the series Men of August


Marly's love for Cade has spanned her teenage years, and survived strong and
intact into womanhood. Her fantasies and daydreams have sustained her, but she's
no longer content with merely imagining the touch of his hands, the taste of his
kiss. It's time to seduce the tough, sexy cowboy.

She's heard the rumors for years, the tales of his sexual
preferences. She's prepared herself to accept his desires. Prepared her body for
his touch. But she wasn't prepared for the choice to come...

Cade's dark desires, his sexual excesses are based in
the past. In a time when pain, shame, and blood stains his very soul. He carries
a secret shared only with his brothers. A secret that has scarred the bond, the
ability to be a brother or to accept the love of the men he was raised with. He
knows the only way to prove his loyalty, his love for those brothers and Marly
will be the key. She has a choice. She can surrender to Cade's needs, his soul
deep desires, or she can walk away. A choice only Marly can make. A choice that
will change her life forever.


I first heard about this book after the gals over at The sanctuary talked about it.
My oh my! Where do I start? Hmmm, OK. Well, Marly is in love with Cade and Cade is in love with Marly. Marly sets out to seduce him, but he resists her because he helped raise her since she was 12. She pushes him to his limits with her seduction because she knew from talking to his past lovers the type of things that turn him on, and she did everything she could to make him want her. It eventually worked, and they become lovers.

Let me tell you..very erotic! Marly also knows that the brothers share the women they love. They are not gay, and they don't do anything with each other, they just sexually please her together. It only happened twice in the book though. Once with just Cade and Sam, and then with Cade, Sam and Brock. The rest of the time it was always Cade and Marly alone though.

Meanwhile, someone is stalking Marly. He sneaks into her room while she sleeps, takes pictures of her, and even shoots one of the brothers after he sees Marly and Cade going at on the kitchen counter. At the end of the book, the stalker is caught and it is someone from Marley's past, but we learn that he is just the middle man, so to speak. The Epilogue lets us know that the real stalker is still out there. Obliviously he hates the August brothers, and plans to hurt them, by going after their women.